This post may contain affiliate links for products I mention. If you click a link and buy something I may receive some compensation. This does not change the price you would pay.
Rating:
5.0
Reviewed by
Susan
Air fryers are new and different and downright fun. We know you're eager to get the most from this novel appliance, and for that you need the best air fryer cookbook – The Air Fryer Bible!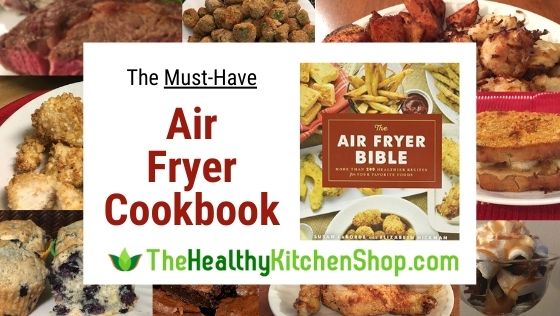 What Makes This the Best Air Fryer Cookbook?
The Air Fryer Bible is the most comprehensive air fryer cookbook on the market, with high quality, well tested recipes that will appeal to all types of taste preferences. It features:
Well over 200 recipes for every course of every meal of the day and snack time too
Beautiful full-color photos for many of the recipes
Complete index for easy reference
Great variety of dishes from a wide range of cultures & cuisines
Healthier air-fried versions of all your deep-fried favorites
Clear, step-by-step instructions that are easy to follow
Recipes made with commonly used ingredients that are readily available
Emphasis on healthier cooking without prepackaged foods or ingredients containing chemical additives
Information and success tips to help you get the best results from your air frying
Note: All recipes are written for the American home cook who prefers the use of U. S. customary system of measurements for ingredients and temperatures shown in Fahrenheit.
Order The Air Fryer Bible online at Amazon, Walmart
, or Barnes & Noble.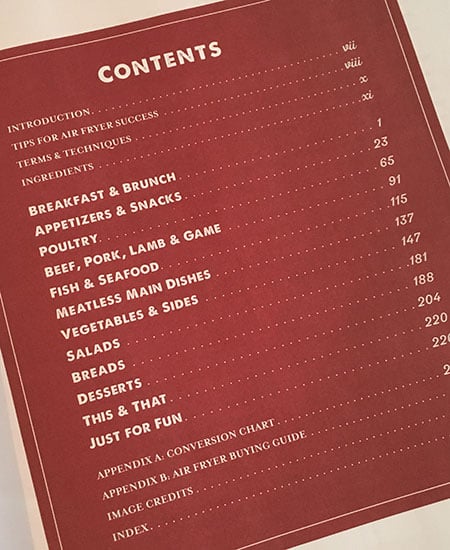 Air Fryer Cookbook Contents & Features
This is truly a complete collection that offers recipes for breakfast, brunch, lunch, and dinner, plus all sorts of appetizers and snacks for any time of day. Enjoy healthier versions of traditional deep-fried favorites, while also trying out interesting new dishes that can turn ordinary meals into special treats.
Speaking of special, in the back of the cookbook is a brief chapter called "Just For Fun". This is a unique little section with ideas for easy ways to turn an ordinary meal into a mini celebration.
Many of the recipes include optional variations as well as serving ideas or suggested sides. You'll also find some helpful designations on individual recipes, including:
Super Easy
Kid Pleaser
Gluten Free
Vegetarian
Taster Favorite
(ultra rave reviews from our taste test panel!)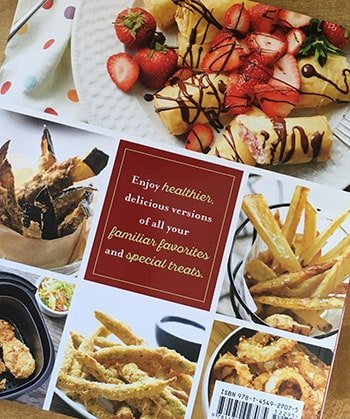 Tested Recipes That Taste Great
Recipes in The Air Fryer Bible were created by two cooks from the deep south where bland food is not an option. (You can read all About the Authors below.) Susan and Elizabeth expect even everyday foods to taste delicious, and their cookbook reflects their high standards.
Every dish in this book was developed specifically for the air fryer, and cooking instructions are broken down into simple, easy to follow steps.
Treat your taste buds to this diverse recipe collection and discover just how versatile air fryers can be…
Bake up a batch of Nutty Whole Wheat Muffins.
Steam some shrimp in a snap for Steamboat Shrimp Salad.
Roast garlic, make croutons, or bake a Peach Cobbler for dessert.
Did you know that you can even "boil" eggs in an air fryer?
Air fryers are not difficult to operate, but the cooking method is unfamiliar to most people. Good instructions can make all the difference.
In fact, with a good cookbook in hand, you may be surprised at how often you use your air fryer. The Air Fryer Bible gives you over 200 of the most delicious recipes for a huge variety of foods, plus a wealth of useful tips and information. Get your copy today!
Check it out on Amazon where you can use the "Look Inside" feature to see more before you buy: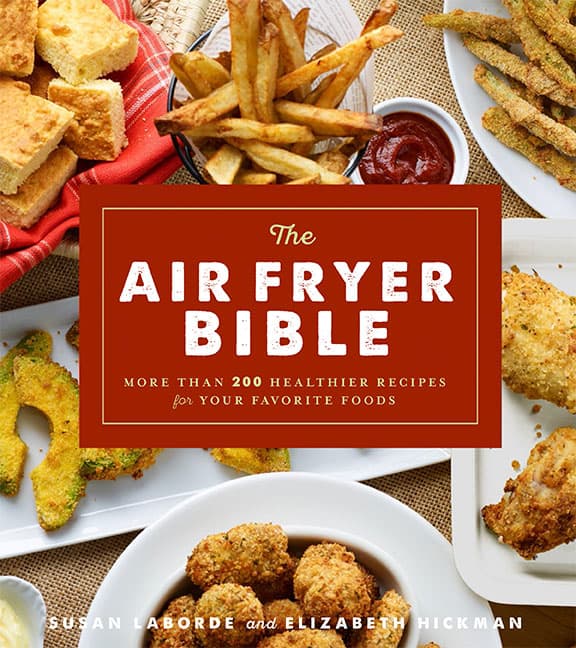 See The Air Fryer Bible on Amazon
Also available at Walmart and Barnes & Noble
---
And for our vegan family and friends…
The Complete Vegan Air Fryer Cookbook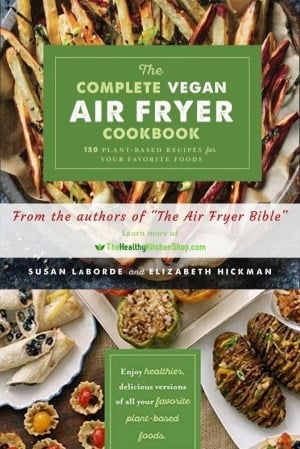 Don't miss this excellent collection of vegan air fryer recipes, also from Susan LaBorde and Elizabeth Hickman:
The Complete Vegan Air Fryer Cookbook: 150 Plant-Based Recipes for Your Favorite Foods
Note that this is not for vegans only! Anyone with a need to avoid eggs and dairy will enjoy delicious dishes that are completely free of eggs and dairy products. You'll also love this cookbook if you just want to eat healthier by adding more plant-based foods to your diet. For a delicious example, check out our vegan Pecan Crusted Eggplant Recipe.
---
Please share on Pinterest and help us spread the word!