This post may contain affiliate links for products I mention. If you click a link and buy something I may receive some compensation. This does not change the price you would pay.
This air fryer comparison chart is designed to help you save time and shop smart! There are now so many air fryer brands and models it's hard to sort them all out. Here is a great place to start!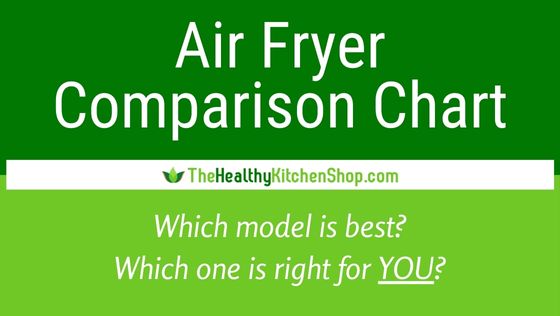 (You may also be interested in our comprehensive overview: Air Fryer Reviews for Smart Shoppers – Best Air Fryers Buyer Guide)
The quick reference chart below lets you compare features of the best selling oil-less fryers at a glance. Following the chart is an overview with general information about airfryers and air frying. If you want to see that first, click here to skip down the page and read About Air Fryers.
Looking for a Large Capacity Air Fryer?
If you entertain often or have a big family, it's time consuming to have to cook multiple batches. For more options you can check out our Large Air Fryer Comparison Chart.
Air Fryer Comparison Chart

(click to view on Amazon)


(click to view on Amazon)


(click to view on Amazon)


(click to view on Amazon)


(click to view on Amazon)


(click to view on Amazon)



(click to view on Amazon)


(click to view on Amazon)

Model
Cosori Air Fryer, 3.7QT
Ninja Air Fryer AF101 4QT
Philips Digital Turbostar HD9641
Philips HD9230/26 Digital AirFryer
Nuwave Brio Air Fryer
GoWISE USA 3.7-Quart Programmable 8-in-1 Air Fryer
T-fal
ActiFry
Big Boss 1300-Watt Oil-Less Fryer, 16-Qt

Read Review

Read Review

Read Review

Read Review

Read Review

Read Review

Capacity
3.7 qt.
4 qt.
1.8 lbs
1.8 lbs
6 qt.
3.7 qt.
2.2 lbs
16 qt.
Controls
Digital
Touch Screen
Digital
Digital
Digital
Touch Screen
Digital Controls
Digital
Touch Screen
Manual
Manual
Adjustable Temperature
Yes
Yes
Yes
Yes
Yes
Yes
No
Yes
Timer
Yes
Yes
Yes
Yes
Yes
Yes
Yes
Yes
Auto Shut-Off
Yes
Yes
Yes
Yes
Yes
Yes
No
Yes
Dishwasher Safe Parts
Yes
Yes
Yes
Yes
Yes
No
Yes
Yes
Dimensions (inches)
10.75 x 10.9 x 12.25
13.6 x 11 x 13.3
10.47 x 11.02 x 14.37
11.3 x 12.4 x 15.1
12.5 x 11 x 11
11 x 9.5 x 12.5
16.7 x 13.6 x 9.4
16 x 12.5 x 13.5
Weight
13.9 lbs
10.58 lbs
12.13 lbs
15.4 lbs
15 lbs
13 lbs.
8.9 lbs
14.7 lbs
Includes
100 Recipe Booklet
Multi-layer Rack, Crisper Plate, 20-recipe Inspiration booklet
Instruction Book
Double Grill Rack,
Recipe Book
Instruction Booklet, Baking pan, Grill pan, Bacon rack, Reversible rack, baking liners, Temperature probe
Instruction Booklet
Measuring Spoon,
Recipe Book
2 Trays,
Recipe Book
Optional Accessories (sold separately)
Double Grill Rack, Rack w/Skewers, Cake Pan, Pizza Pan, Muffin Mold, Silicone Mat
None
Double Grill Rack, Fry/Grill Pan, Baking Pan
Fry/Grill Pan,
Baking Pan
Baking Cake Pan
None
None
Warranty
1 Year Ltd. (2 yr w/product registration)
1 Year Ltd.
1 Year Ltd.
1 Year Ltd.
1 Year Ltd.
1 Year Ltd.
1 Year Ltd.
30 Days
Average Customer Rating
4.7
4.8
4.6
4.6
4.4
4.6
4.3
4.4
Price Range
Under $100
Under $100
Under $150
Under $100
Under $150
Under $100
Under $250
Under $150
See Today's Price
Amazon
Price
Amazon
Price
Amazon
Price
Amazon
Price
Amazon
Price
Amazon
Price
Amazon
Price
Amazon
Price
(Back to Top)
About Air Fryers
Air fryers have finally become a hit in the U. S., but they have been hugely popular in Australia and Europe for years. Perhaps the best recommendation comes from our friends down under, where lots of households use air fryers far more often than microwaves.
Cooking with little to no oil is obviously healthier, but air fryers offer some other benefits too, including:
They don't stink up your house like traditional frying does.
Cleanup is easier – no grease splatter all over your range, counter, vent hood, floor, clothes, skin, and anything else within splatter/popping distance.
You don't have to fool with quarts and quarts of used oil and figuring out how to best dispose of it.
Your kitchen won't heat up nearly as much – a big plus in summer or humid climates.
They are also more versatile than you might think. For an idea, check out the variety of dishes in our list of 50+ Air Fryer Recipes – from appetizers to desserts!
If you're wondering whether an air fryer is right for you, check out our article "Air Fryer Pros and Cons" where we explain in detail the good, the bad, and the misinformation you've probably heard.
Your Heart Will Thank You … But What About Your Taste Buds?
As you might expect, taste is a matter of, well, taste. Some of us southern-fried-to-the-bone folks actually like the flavor you get from heavily breaded foods that have been drenched in grease. We can't help it. We were raised on it. We're experts at taking perfectly healthy foods and turning them into a cardiologist's worst nightmare: fried squash, fried okra, fried green tomatoes, fried eggplant, fried apple pies (or peach or cherry or blueberry).
But then, contrary to popular belief, just because we talk slow doesn't mean we're stupid. All of those much beloved comfort foods aren't so comforting when you realize how bad they are for you. That makes it a lot easier to keep an open mind.
In fact, how well you like the taste of air fried food may depend in part on your attitude. If you expect an exact, perfect match for deep fried, you may be disappointed. A good air fryer will give you excellent results on crispiness, but the flavor will differ slightly from the grease-laden deep fried version. One good ole boy from Texas put it very well in his review. He said that it comes very close to the flavor of deep fried, and knowing how much better it is for his heart, he's perfectly satisfied and glad to have the option to eat fried foods again. Another made this great point: if it tastes 90% as good and it's 90% better for your health, that's a pretty darn good trade-off.
That said, you'll also discover that some foods actually taste better when cooked in an air fryer. Two favorites are the Air Fried Okra Recipe on this site, and our Fried Mushrooms recipe in The Air Fryer Bible cookbook (click to see it on Amazon). Give them a try, and you will be amazed at the results.
(Back to Top)
Which is the Best Air Fryer?
Finding the best airfryer to suit your needs and preferences won't take you forever because this is not a complicated kitchen gadget. For the most part, the major differences in models boils down to interior capacity, price, and the quality of the results you'll get. The only "bells & whistles" involved are timers, temperature controls, and automatic shut-off. Most of the popular models have all three.
An exception is the T-Fal. It does have a timer and shut-off feature, but it has no adjustable temperature control. You have no options and will have to cook everything at the same temperature. It is also uniquely designed to work using an interior stirring paddle, and opinions on that are quite strong – consumers either love it or hate it.
Also worth noting is that the timer on the Big Boss Oil-less Fryer cannot be easily cancelled. If you're interested in that model be sure to read our Big Boss review to understand how that timer works.
Two long-time best sellers on the market are, still, the older HD9220 and HD9230 made by Philips. These are top of the line airfryers, and when it comes to taste and crispiness both have an excellent reputation for doing the best job on a good variety of foods. These two models are identical as far as performance, but there's a notable difference in price and in a couple of key features. For complete details about them you can read the Philips AirFryer Reviews (That link will open in a new tab or window, and it's one review that covers both models).
The other top of the line model is also from Philips, and it is the newer TurboStar Digital HD9641 model. Though it's hard to find complaints about the original versions, the manufacturer redesigned this model to make it even more user friendly. It gets excellent ratings for performance as well as for easy operation and cleaning. Philips is our editor's pick, and to find out why please read our complete Philips AirFryer Review – TurboStar HD9641. (link opens in new tab or window)
However – and that's a big "however" – the Philips models are also the most expensive. If you want to spend a lot less, there are some other very good options.
One lower priced model that has been on the market for a number of years is the GoWISE USA 8-in-1 Electric Air Fryer. It's loaded with great features and has earned above average consumer ratings. Read the complete review to decide for yourself, but when it comes to getting the most for your money, the GoWISE just might be the best deal for you.
Note that the GoWISE air fryer is often sold out. It usually sells for under $125. Beware of price gouging from sellers trying to take advantage of supply shortages.
Two rising stars in the market are from Cosori and Ninja. Both companies jumped on the air fryer bandwagon to offer their versions of this popular appliance, and both have quickly become best sellers. Cosori makes a 3.7QT air fryer and an XL 5.8QT air fryer. Both of these very reasonably priced models get excellent ratings and have earned the "Amazon's Choice" badge.
The other extremely popular model is by Ninja. This well-known manufacturer also makes two sizes: the Ninja Air Fryer AF101 with 4QT capacity; and the Ninja AF161 Max XL Air Fryer with 5.5QT capacity. The XL model sells for less than $150, which is an excellent price, and based on customer reviews, both models live up to the Ninja brand's reputation for quality.
Finally, one thing to keep in mind is that air fryers are unique, and for most of us it's a completely new cooking method. Chances are that you will enjoy your appliance a lot more if you get a good air fryer cookbook. Unfortunately, so many of the cookbooks you find on Amazon are pure garbage, and they're full of recipes that won't even work in an air fryer. To avoid getting ripped off, please see our Air Fryer Cookbook Guide.
(Back to Top)