This post may contain affiliate links for products I mention. If you click a link and buy something I may receive some compensation. This does not change the price you would pay.
Air fryer cooking isn't difficult, just different. You'll get the hang of it quickly, and these air fryer recipes for beginners give you some delicious ways to get started.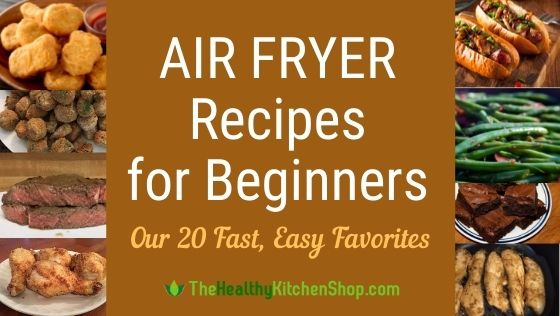 I never dreamed I would use an air fryer so much – until I got one! After my first batch of French fries I was intrigued and wondering oh my, what else can I air fry?
At that time there were only a few recipes online, no cookbooks, and very little information. Luckily I'm not afraid to experiment, so I quickly discovered that air fryers are amazingly versatile and do a great job on all sorts of foods.
If you're brand new to this appliance (or just looking for some quick and tasty ideas), these recipes should give you a good start. None of them are complicated. All have clear instructions and a limited number of ingredients so you aren't overwhelmed.
Several of these recipes lend themselves well to modification, for instance the recipes for pizza and burritos. You might follow the recipes to the letter on your first try, but once you understand the method, get bold and try your own variations.
I hope you enjoy these recipes, and I sincerely hope you enjoy your air fryer as much as I do mine!
Air Fryer Recipes for Beginners
1. AIR FRYER FROZEN CHICKEN NUGGETS, Midget Momma

A super simple way to start is with frozen chicken nuggets, a popular favorite in most families and especially with the kids. These days a lot of brands include air fryer instructions on the bag of nuggets. If not, this recipe spells it out for you. Follow Midget Momma's step-by-step instructions to get extra crispy chicken nuggets that will cook much faster than in your oven.

2. AIR FRYER GRILLED CHICKEN, The Healthy Kitchen Shop

(Recipe from The Air Fryer Bible Cookbook)

These chicken strips are a little healthier than nuggets since they have no breading, and they are super easy. The simple marinade is delicious, and if you prefer you can also experiment with your own ideas. Even something as simple as Italian Salad Dressing makes for a quick and very tasty marinade.

The best part of these "grilled" chicken strips is that they are so versatile. You can serve them alone as a main dish, cut into chunks for salads, or use in sandwiches and wraps. What about sliders or quesadillas? There are so many possibilities! I always make a double batch because these strips freeze well. That gives me the makings for a quick and delicious meal on a rushed weeknight.

Get the Recipe

3. AIR FRYER CHICKEN LEGS, The Healthy Kitchen Shop

A southern all-time favorite is fried chicken. Lots of us gave it up years ago because deep-frying was the only way, and it's so unhealthy. At last, air fryers have saved us! You might detect a very slight difference between these drumsticks and the boiled-in-grease original, but if you care about your health at all you'll be thrilled. The taste difference is almost too slight to notice, and you get to satisfy your craving for southern comfort food without all the guilt.

Get the Recipe

4. AIR FRYER TERIYAKI BEEF TIPS, The Healthy Kitchen Shop

Air fryers aren't just for chicken, and these Teriyaki Beef Tips are a great way to treat your family to something different. Cooking and prep time is minimal, but you do need to allow an hour for marinating (or start that the night before). As someone who really dislikes overcooked beef, I highly recommend using a meat thermometer, especially if you're new to air fryer. For variety you'll find links to 5 different marinade recipes from around the web.

Get the Recipe

5. BONELESS RIBEYES, The Healthy Kitchen Shop

If you're like me, you're going to have to try this to believe it. My favorite way to cook a steak is on a charcoal grill, but my second choice is my air fryer hands down. Nobody could be more shocked by that than me. The first time I tried it beef wasn't nearly as expensive as it is now, but still, I was certain it was going to be a waste of a very nice piece of meat. Never have I been so wrong!

I do have one tip. In my book there are only 3 ways to cook a steak – rare, medium rare, and ruined. For that reason I strongly recommend using a good meat thermometer for this recipe. Watch your timing, test for doneness, and trust me, you're going to be amazed at the results.

Get the Recipe

6. AIR FRYER PORK CHOPS, Foodtastic Mom

These boneless pork chops have no breading, which keeps them gluten free. Instead, the cooked chops are coated with a maple syrup/Dijon mustard sauce after cooking. My one word of advice here is to use a meat thermometer to be sure your pork is done but not overcooked. Your total cooking time can depend on several factors, including the kind of air fryer you have and the thickness of your pork chops.

Get the Recipe

7. AIR FRYER MEXICAN SHRIMP, Ahead of Thyme

Shrimp cook so fast in an air fryer you can have a seafood dish ready in no time. I would make double batches of these because they will keep in the fridge for 3 or 4 days and can be used in a variety of ways. Serve over rice, in a salad, or use in typical Mexican fare such as tacos, tostadas, or burritos.

Get the Recipe

8. AIR FRYER ENGLISH MUFFIN PIZZAS, Cooks Well With Others

This is a great basic recipe to have on hand because you can easily change it up for variety or to suit individual tastes. Follow the basic instruction for muffins, but add your own toppings. Try different meats or cheeses, or make vegetarian, Hawaiian, barbeque, chicken alfredo, or whatever you and your family love. These are great for lunch or snacking, and you can serve them with a big green salad to make a quick weeknight meal.

Get the Recipe

9. AIR FRYER CHICKEN BURRITOS, The Food Hussy

This recipe calls for a rotisserie chicken, but it's also a great way to turn leftover chicken into a meal your family will love. Instructions are clear and ingredients are limited so these come together quickly. Once you learn the method, you will surely want to experiment making burritos with other kinds of leftovers and all your favorite toppings.

Get the Recipe

10. AIR FRYER HOT DOGS, Stephanie Manly on CopyKat

When this cook first shared this recipe the response was overwhelming. People absolutely love her air fryer hot dogs, and this became one of her most popular recipes ever. It's very simple, but her tips help you get great results. I especially love how she uses the air fryer to give the buns a slightly crispy exterior. If you like hotdogs, you'll love these.

Get the Recipe

11. AIR FRYER ROASTED CORN, Stephanie Manley on CopyKat

Also from Stephanie Manley, here is recipe that is as delicious as it is simple. If you like corn, you're going to love this! I can't explain why, but an air fryer makes corn on the cob taste exceptionally good. It's true for plain ole frozen corn on the cob, but when you can get fresh picked field corn in the summertime it's even better. Honestly, it's to die for!

Get the recipe here.

12. AIR FRYER SPICY GREEN BEANS, Soup Loving Nicole on Allrecipes

This healthy side dish gets extra flavor from a quick toss in sesame oil and soy sauce, with garlic and red pepper flakes added to spice it up. Keep in mind that some air fryers cook faster than others. The total cooking time for these green beans is 12 minutes, but to be safe check before the full time is up. It only takes a second to stop and look, and it helps make sure you don't get burned beans.

Get the Recipe

13. AIR-FRIED ASPARAGUS WITH HERBED LEMON AIOLI, Paula Deen

Judging by the name of this recipe, you'd think it was some complicated creation of a master chef. In fact it's a quick and simple way to cook a delightfully different and tasteful side dish. The Aioli is made with commercial mayonnaise and other ingredients that you most likely have on hand. The instructions are easy to follow, and the total prep plus cooking time is only 22 minutes.

Get the Recipe

14. AIR FRIED OKRA, The Healthy Kitchen Shop

This might take a little longer than tossing something frozen into your air fryer, but the taste is definitely worth a little extra time. Besides that, homemade is almost always healthier. It's also a good way to start learning how to fry all your favorite vegetables. The coating method and ingredients can be used on other foods such as yellow squash. Add your own seasonings to change the flavor or spice it up if you like.

Get the Recipe

15. AIR-FRYER SWEET POTATO FRIES, EatingWell

French fries are an air fryer specialty and probably one of the most popular foods to cook, especially for beginners. These sweet potato fries are a delicious alternative to the standard version. The cinnamon/cayenne pepper combination gives them a spicy kick, but if you prefer you can stick with simple salt & pepper or your own favorite seasonings. No matter how you season, you get a healthier side in just 20 minutes, and you don't have to spend time cleaning up the greasy mess from deep frying.

Get the Recipe

16. AIR FRYER BLUEBERRY MUFFINS, The Healthy Kitchen Shop

Who doesn't love blueberry muffins for breakfast or a special treat any time of day? To make this recipe even faster you can use a boxed mix. My favorite brand that is almost as good as homemade is Krustaez Wild Blueberry Muffin Mix. That company also makes numerous other delicious flavors like cranberry-orange and almond-poppy seed.

Homemade or boxed, you'll get very pleasing results. Air fryers do a wonderful job on all sorts of baked goods, from homemade biscuits to cakes to these muffins.

Get the Recipe

17. AIF FRYER FRENCH TOAST STICKS, Recipes From a Pantry

French toast is another favorite breakfast treat, and this is a great recipe for beginners because it's so simple. Air frying makes it healthier because you don't need any kind of butter or oil for cooking. Whether you prefer soft or crunchy is a matter of personal preference, so watch you time here. If you don't like a crispy exterior you may not need the full cooking time.

Get the Recipe

18. BREAKFAST EGG ROLLS, Delicious Little Bites

These are easier than you might think. You use purchased egg roll wraps, scrambled eggs, cooked bacon, and cheese. The only tricky part is rolling and sealing the wraps, but this cook gives good easy-to-understand instructions. Your air fryer eliminates the need for all that oil in deep frying and lets you enjoy something a little different for breakfast.

Get the Recipe

19. BROWNIES AFTER DARK, The Healthy Kitchen Shop

This is another excellent recipe to try your hand at baking in an air fryer. Everyone loves brownies, and this ultra dark version lends itself to all sorts of possibilities. If you have inhuman willpower cut in small squares for just a bite of dessert. Otherwise you'll appreciate an air fryer small batch to keep you from overindulging. These are fabulous alone, with a tall glass of milk or a big scoop of ice cream, used in a trifle or ice cream sundaes, or as a base for any and all of your favorite toppings.

Get the Recipe

20. AIR FRYER BAKED APPLES, Cook It Real Good

Here's a great way to satisfy your sweet tooth without totally wrecking your healthy eating plan. These little baked apple halves give you the taste of homemade apple crisp in a treat you can hold in your hand. Makes for a nice bite of dessert, if you can control yourself and eat just one. Of course, if you want to make them decadent you can serve in a bowl with a big scoop of vanilla ice cream.

Get the Recipe
You may also like…
If you enjoyed these recipes please share on Pinterest and help us spread the word!