This post may contain affiliate links for products I mention. If you click a link and buy something I may receive some compensation. This does not change the price you would pay.
This review covers both the FoodSaver V4400 and V4440 models because they are the same machine. The only difference is packaging options. That is, you can buy the machine only, or the machine bundled with different bags or accessories.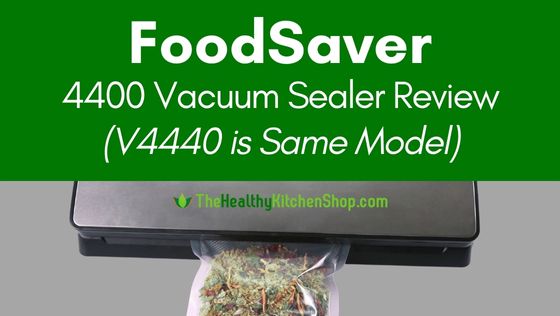 FoodSaver V4400 2-in-1 Automatic Vacuum Sealer Machine (click to see it on Amazon)
FoodSaver V4440 2-in-1 Automatic Vacuum Sealing System (click to see it on Amazon)
To be clear, I'll repeat myself. The V4400 and V4440 are the same FoodSaver vacuum sealer model. The only difference is packaging options:
FoodSaver Model V4400 – You can buy just the vacuum sealer alone, or you can choose options to purchase it with your choice of bags or accessories (at additional cost, of course).
FoodSaver Model V4440 ‐ There are no options here. For the price listed you will buy the vacuum sealer machine plus 1 box of FoodSaver quart-sized precut bags (44 count).
To get the best price you will definitely want to do the math on these options. Look at individual prices for bags, and accessories. I can't do that for you because online prices vary from time to time. What I can do is warn you that sometimes a bundle will actually cost you more than if you purchased the items separately. I know that seems backward, but looking at prices as of this writing (October, 2022) it is absolutely true.
Note that in the review below I will simply refer to the V4400 except in cases where I need to clarify something.
Rating:
4.5
Reviewed by
Susan LaBorde
The FoodSaver V4400 Vacuum Sealer is a very versatile model with all the best features. It is an automatic channel (suction type) vacuum sealer with an accessory port and built-in handheld sealer. It is capable of sealing bag rolls, pre-cut bags, and zipper bags, as well as containers compatible with it's handheld sealer. The handsealer is included, but containers are sold separately.
By far the majority of owners give this model high praise, ranking it with a 4 or 5 star rating. Still, there are reports of machines that don't work well or quit working altogether within the first year. As always, my review covers all the pros and cons to help you decide whether this is the right choice for you.
Features
Automatic bag detection and vacuum sealing
Seals rolls, pre-cut bags, and zipper bags
Includes retractable handheld sealer (built-in)
Optional setting for moist or dry foods
Pull-out, dishwasher safe drip tray drawer
Internal roll storage
Built-in roll cutter bar and bag cutter
Includes starter roll/bags (see details below)
5 Year Limited Warranty
Automatic bag detection means that you don't have to manually push a button to start the seal. You simply insert the open end of your bag into the machine, and it will begin the vacuum sealing process automatically.
For best results you do need a bag with a nice straight edge. That can be difficult using scissors, but that's where the built-in roll cutter bar and bag cutter will come to your rescue.
Like the FoodSaver 4840, this model has a button you can use to shut off the vacuum process. This is helpful for vacuum sealing soft or delicate foods such as breads or cakes. You can use the button to stop processing before your food is crushed.
The retractable handsealer is another nice feature, especially for use in making fresh produce, lunchmeat, cheese, and other foods stay fresh longer in the refrigerator. It's like having another small appliance that doesn't take up any cabinet space because it is self-stored in your vacuum sealer.
What are this model's limitations? Generally speaking, it's not for the kind of heavy duty use you'd have at a hunting or fishing camp. For example, it's not a good choice if you have a group of people that will be spending hours on end packaging several deer or elk all at once. If you plan to vacuum seal huge quantities of food non-stop for an extended time you'd want to look into a chamber vacuum sealer. They are much, much more expensive but built for power users.
Channel vacuum sealers like this one also do not work on liquids such as soup, gravy, or salsa. Again, for that you need a chamber vacuum sealer. And yes, I've seen reports of people who managed to succeed with liquids in the V4400, but that's the exception. Even if you do manage to get a good seal, you risk ruining your machine due to liquid dripping inside of it.
The only way you can safely seal liquids with the V4400 is externally. You would use the vacuum hose (included) to seal foods in jars or special containers. See more below under "Optional FoodSaver Vacuum Sealer Accessories".
The FoodSaver V4400 is designed for average home use on dry and moist foods. "Moist" includes meats, poultry, fish, fruits, and vegetables – basically anything that isn't swimming in large amounts of liquid.
You can certainly package in bulk to take advantage of sales and seasonal prices or to vacuum seal the harvest from your backyard garden. I've even read of some who uses this sealer when they buy half a hog or cow. You must wait 20 seconds between seals for cool down, and normally you need that long to prepare your next bag. If you work quickly and process for long periods, you may have to allow for an occasional cool down time. Under ordinary home use, it shouldn't be an issue.
Overall, this is a very versatile machine. Precut bags can be quick and easy, and zipper bags have their advantages, but the option to use bag rolls is also important. It's an absolute must if you ever butcher your own game or need to package any items that tend to be bulky or oddly shaped.
Size and Capacity
Exterior Dimensions: 16.14 inches wide x 7.09 inches deep x 7.85 inches high
Weight: 10 pounds
Maximum Bag Size: Up to 11″ wide – That includes FoodSaver's gallon size bags. Note that you can also use 8-inch wide bag rolls, and with either width you can choose the length necessary for whatever you are sealing.
What's Included
Both the V4400 and the V4440 models include the following FoodSaver brand bags and rolls:
1 vacuum seal bag roll, 11 inches by 10 feet
3 Quart size seal bags
2 Gallon size seal bags
3 Quart size vacuum zipper bags
2 Gallon size vacuum zipper bags
In addition, the V4440 Model includes 1 box of FoodSaver 1-Quart Precut Bags (44 count). Before choosing this option, be sure to look at the price of the machine and these precut bags when sold separately.
The user manual can be viewed online here: FoodSaver Owner's Manual for V4400 Series
Also be aware that you have several choices in how you purchase the V4400. If you click this link to go to Amazon, at the top of the page you'll see the picture and price of vacuum sealer sold with only the sample roll and bags that come with it (those I named above). Scroll down the page a little and you'll see options for paying more to add different supplies or accessories.
(Back to Top)
Bags, Rolls & Containers
Bags, Bag Rolls, and Vacuum Zipper Bags
For anyone new to vacuum sealing it's important to understand that you must use the correct type of bags. In order for this type of suction sealer to work, the bag material must be specially designed with "channels" that allow air to be removed from the bag.
Good quality bags and rolls give the best results, and FoodSaver offers a wide range of both. Their bags and rolls are BPA free and made with multi-ply material to prevent freezer burn. They are also safe for use in the microwave and for simmering.
You my also be interested in vacuum zipper bags, which are sealed using the built-in handheld sealer. The purpose of these bags is to allow you to open and re-close them more than once. They can be useful for a number of foods such as deli meat, cheese, or even leftovers.
In case you're wondering, no, you absolutely cannot use ordinary ziptop bags. They aren't thick enough and are not made of the proper material required for suction sealing.
To view the full selection and prices, check out these links to Amazon:
Optional FoodSaver Vacuum Sealer Accessories
FoodSaver Jar Sealer
This accessory is not terribly expensive and has always been very popular. It is used to seal mason-type jars, but be aware that it is not a substitute for canning.
The foodSaver Jar Sealer is designed to seal jars with liquid foods such as sauces or fruit preserves. It also works for storing dry or dehydrated foods in jars, especially delicate items you don't want to crush.
This jar sealer comes with attachments for both regular and wide-mouth jars. Note: To the best of my knowledge, the regular and wide-mouth jar sealers are no longer sold separately (you have to buy the combo).
FoodSaver Marinators/Storage Containers
You can use the containers below for vacuum food storage or for marinating. Get an air tight seal for storing in the freezer, refrigerator, or pantry. Or, to speed up cooking use the marinate mode on your vacuum sealer to marinate foods in just a few minutes instead of waiting for hours. You can buy the single 10-cup container or get a set of two, a 10-cup and a 3-cup container.
FoodSaver 2129973 Preserve & Marinate 10 Cup Vacuum Seal Container
FoodSaver 2116382 Preserve & Marinate Vacuum Containers, 3-cup and 10-cup (Count-2)
Note that Amazon also sells the FoodSaver Vacuum Seal Quick Marinator, but it's the same size as the 10-quart container shown above and much more expensive.
(Back to Top)
Customer Reviews
I always like to start with the bad news, and there are two major complaints on the manufacturer's website. One is the problem of units that quit working, and that's certainly a concern, but in every case I found, the malfunction occurred well within the 5 year warranty period.
The second major complaint was that the machine didn't seal well, mostly when it involved foods with some moisture content. This one is difficult to judge because you never know if the problem may just be user error. What I can tell you is that on balance, a striking number of owners give this model high praise for its sealing ability. Out of a little over 900 reviews, 90% gave it a 4 or 5 star rating (based on data from manufacturer's website).
As for the good news, one of the first reviews I saw said that it's easy to use of you read the booklet. That just might be key. I know most of us hate reading instructions. However, if you're frustrated with operating your vacuum sealer or not getting good results, you really should consider reading the directions. It could save you a lot of angst.
For example, one recommendation is to pre-freeze juicy products for an hour before sealing. This prevents liquid from getting inside the unit and/or interfering with achieving a good seal.
Among the positive reports are comments that it's simple to operate, doesn't take up an excessive amount of space, and bags are easy to make. Several people mention how much they like the bag cutter and the automatic bag detection.
Some of those who give this model highest ratings do say that getting a good seal on wet foods involved a slight learning curve. Though they had some trouble in the beginning, they said that it just took a little experience to get the hang of it. Personally, I have heard that exact same report from a family member.
Many customers use it for the usual things you'd expect such as bulk buying food on sale or storing produce from a home garden or local farmers market. Some take advantage of discounts to freeze ingredients for homemade pet foods. Others vacuum seal fresh fish, game, ground beef, home cured bacon, cheese, chicken, all kinds of vegetables, and foods for sous vide cooking. Even leftovers taste better if you vacuum seal and freeze them.
Another popular use, especially with grocery prices skyrocketing, is for everyday refrigerator items. Vacuum sealing can help keep a variety of foods fresher for longer, including lunchmeat, cheese, lettuce, and other vegetables.
I don't find anyone complaining that the bags don't hold a good seal. From all I have found, this model does a good job creating an airtight seal that holds up over the long term.
Finally, another plus I would add is that the manufacturer regularly responds to consumer questions, complaints, and reviews on its website. That would seem to indicate that they are concerned about their reputation and hopefully are making an effort to keep their customers happy.
(Back to Top)
Pros
Very versatile – use with rolls, precut bags, zipper bags, and numerous optional accessories
Retractable handheld sealer adds options for sealing jars, containers, and fast marinating
Produces tight, sturdy seal to protect food over the long term
Internal bag storage saves space, and bag cutter aids in getting a good straight edge
Easy to clean with dishwasher safe drip tray
Cons
Slight learning curve to getting good seal on wet foods
FoodSaver brand bags/rolls are excellent quality but can be expensive
Not built for extremely heavy batch processing
FoodSaver 4400 Vacuum Sealer Review: Summary
This model is extremely similar to the FoodSaver 4840. The biggest difference seems to be with the automatic bag detection feature. Owners have lots of complaints about that on the 4840. However, based on reviews I've found, that is not a problem with this Foodsaver V4400 model. Owners love the V4400 for its versatility, ease of use, and the many ways it helps them save money by keeping all sorts of foods fresh and tasty for long periods. It performs well and creates a good seal that holds up well to protect from freezer burn. It won't take up a lot of room on your countertop, and it's lightweight if you do need to move it around. This vacuum sealer is a good choice for the average home user, and it would also make a nice gift for preppers or anyone who has a backyard garden.
Click images below to see prices and bundle options on Amazon:
(Back to Top)



Not sure whether this model is best for you? See our Vacuum Sealer Comparison Charts to compare features of all models and check out the reviews.
If you found this info helpful please share on Pinterest and help spread the word!