This post may contain affiliate links for products I mention. If you click a link and buy something I may receive some compensation. This does not change the price you would pay.
Can you bake a cake in an air fryer? You bet, and the results are delicious! See how easy it is with these great air fryer cake recipes.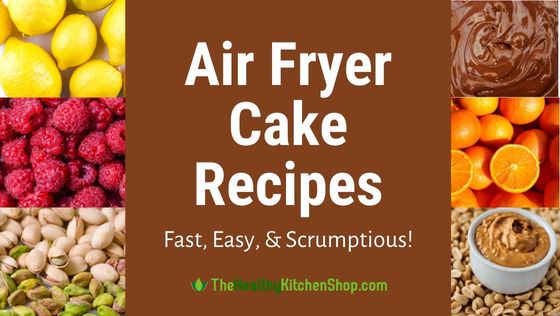 Baking Cakes in an Air Fryer
If you haven't tried baking in your air fryer, you're in for a treat. I've baked all sorts of goodies, and my results have been excellent with everything I've tried – including yeast breads, quick breads, cornbread, biscuits, scones, cookies, brownies, cakes, muffins, sweet rolls, pies, and cobbler.
This collection is for everyone. Novice air fryer bakers will appreciate how easy most of these recipes are. Some take a little more time than others, but none are complicated.
More experienced cooks will enjoy the great variety of cakes here. You can cook a basic cake for just a bite of something sweet, or dress it up to create a decadent dessert for a special occasion. Either way, baking is fast and easy and gives you yet another way to enjoy your air fryer.
Air Fryer Baking Pans
The one must-have item for these air fryer cake recipes is a baking pan. You can use round, square, or even loaf pans. Basically, any dish that can be used in your regular oven can also be used in your air fryer.
The only requirement (or limitation in some cases) is size. Before ordering a pan, measure the inside dimensions of your air fryer basket. For round baskets you need the diameter, and for square or rectangle baskets you need the width and length. Then look at the dimensions of the pan you'd like to order and make sure it's small enough to fit inside your basket.
Below are some suggested pans you may want to check out. Personally, I prefer a pan with a handle because that makes it easier to lift out of the air fryer basket when it's hot.
You can also go to Amazon to check out their huge variety of ramekins for baking. Additional information about air fryer baking pans can be found on TheHealthyKitchenShop.com site at:
Air Fryer Cake Recipes
You may also like…
If you enjoyed these recipes please share on Pinterest and help spread the word!