This post may contain affiliate links for products I mention. If you click a link and buy something I may receive some compensation. This does not change the price you would pay.
The largest air fryer models have an average capacity of over 5 quarts, a great size for families. Our comparison chart includes the top sellers from both well-known brands and lesser known manufacturers – including my two personal favorites.
Based on extensive experience with air fryers, Philips has always been my personal favorite. However, I also own a Cosori and absolutely love it. Cosori makes an excellent machine at a much lower price than Philips.
Below the chart are all the details you need to help you decide which of these models is right for you.
(Scroll down past the chart to see more detailed information on specific air fryers, as well as links to complete reviews of select brands.)
Large Air Fryer Comparison Chart
* NuWave Air Fryer Warranty – Customer pays shipping (both ways, if applicable on an exchange) plus handling charges. Click here to read the NuWave Air Fryer Warranty terms.
* Power Air Fryer XL 60 Day Warranty – At one time this company had warranty terms posted on their website stating that if warranty service is needed, customer must pay return shipping plus a $19.99 handling fee. That warranty has been removed from the site. Most recent information I can find is here: Support – PowerXL Products
---
(back to top)
Accessories for Large Capacity Air Fryers
This information has moved!
You can now find accessories for all air fryer sizes on one page. Please see Universal Air Fryer Accessories – All Sizes, Best Value (opens in a new tab or window).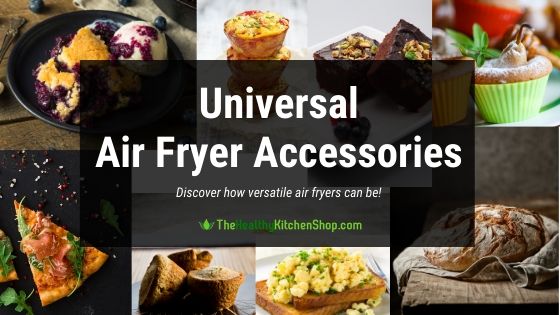 More Info About the Large Air Fryers In Our Chart
Editor's Pick #1 – Philips
Personally, I am a huge Philips fan because I own three of the smaller models and am extremely pleased with them. Philips is the most expensive brand but for me has proven to be an incredible work horse. During the writing of The Air Fryer Bible my co-author and I literally abused these two of those machines. Developing over 200 recipes meant running the air fryers almost constantly, day after day, for months on end. After all that, both of those two still work like a charm. (To clarify, I did not buy the third Philips until later.)
For our second air fryer cookbook (which is vegan), my co-author purchased the newer standard size Philips model and has had the same excellent experience with it. Philips has stood the test of time with the public as well. Since the first reviews were written in 2014, average consumer ratings have remained high and even increased in some cases.
Of course there is no 100% guarantee, as even the best manufacturer can produce a lemon now and then. All I can tell you is that I'm so sold on Philips I would never buy anything else. (Oh wait, that was before I discovered Cosori. I'll talk about that next!)
For full details on the Philips extra large models see my Philips XXL Airfryer Review and Philips Airfryer XL Review. To check current prices see them on Amazon: Philips XXL Airfryer HD9650/96 — Philips XL Airfryer HD9240 .
(back to top)
Editor's Pick #2 – Cosori Air Fryer Max XL
Cosori is a lesser known brand name that sells air fryers, dehydrators, and other small appliances, all of which are becoming very popular. On Amazon alone the Cosori XL air fryer has over tens of thousands of reviews from verified purchasers (as of October, 2022), and on average they rate it extremely high.
One big appeal of this model is that it sells for under $125. That's a great price considering that you get huge capacity and excellent features. It even has a decent warranty.
Another appealing quality to many people is that it has 11 built-in Presets. Some of those presets have a "shake reminder" feature, which alerts you when it's time to shake food for more even cooking. This is also one of the few (maybe the only) air fryer I've seen with a "keep warm" function.
If you don't want to shell out the big bucks for a Philips, this extra large capacity Cosori model seems to offer very good value for the price.
I have owned this air fryer for over two years now and am very pleased with it in every respect. Click here to read my comprehensive Cosori Air Fryer Review.
Amazon's Choice – Ninja AF161 Max XL Air Fryer
If you prefer name popular brands, who hasn't heard of Ninja? This company has earned a good reputation for quality, and their XL air fryer seems to live up to it. With well over 10,000 consumer reviews online, its average rating is a very respectable 4.7.
The Ninja does not include presets, but many people don't care. To me, presets (of any kind) aren't very reliable because there are always variables such as the amount or the temperature of food you load in an appliance. The Ninja costs only a little more than the Cosori, so if you love presets, go with the Cosori!
One feature you do get on the Ninja is a maximum temperature of up to 450 degrees. Most air fryers range only up to 400 degrees. That higher heat level can be helpful for getting the crispiest exterior possible, as well as to cook food faster.
On balance the Cosori and Ninja are very similar, and as mentioned before, the price difference is only a few dollars. The Ninja is a good choice for you if you aren't a big fan of presets, and you're more comfortable buying a well-known brand name.
NuWave Brio Air Fryer
One very popular "as seen on TV" model is made by Nuwave Brio. Though not one of my favorites, this model has a tremendous number of online reviews and rates very well. I know a few of those owners personally, and they are all very pleased with the NuWave.
The biggest drawback to this model is its warranty. The terms are briefly noted above, but you may also want to read our Nuwave Air Fryer Review to get all the pros & cons on this model. If you're ready to shop now, click here to see the NuWave on Amazon.
Power Air Fryer XL
Another well known infomercial brand is the Power Air Fryer XL. It's getting fairly good reviews and falls in the lower price range, much less expensive than the Philips and the same as a couple of others.
To my mind, the deal breaker on the Power Air Fryer XL is that it is so difficult to find details about the warranty. The original terms were not very good, and since then the details seem to keep changing. They company moves this info around so it's difficult to keep up.
Despite that this model seems to sell quite well – maybe for the simple reason that it's so highly advertised on TV!
If you want to give it a try, one option you might consider is to buy an extended warranty plan from Amazon. If you do that, be sure to read the fine print to know for certain that your service plan will cover any problems without sticking you with shipping and handling costs.
To check details on both the model and a protection plan, click here to see the Power Air Fryer XL on Amazon.
Note: The price of the Power Air Fryer XL is almost always exactly the same, no matter where you buy it. It is highly unlikely that you'll get it cheaper buying directly from the Power XL website (you may even pay more), and they don't offer any kind of extended warranty plan.
By comparison, keep in mind that both the Ninja and the Cosori offer great features at a slightly lower price than the Power Air Fryer.
(back to top)
Summing It Up
If you don't mind spending more and want the best, the Philips is definitely for you. If your budget says no way to Philips, I think the very reasonably priced Cosori deserves a close look. For a bargain model, you'll have to weigh the pros and cons of the others in the above chart.
One thing for certain is that if you're brand new to air fryers you should invest in a good cookbook. Air frying isn't difficult, but it is different. You'll be a lot happier with your new appliance if you have some good recipes designed to work in air fryers.
Naturally, my top cookbook recommendation is The Air Fryer Bible: More Than 200 Healthier Recipes for Your Favorite Foods, co-authored by yours truly. If you're vegan or interested in egg-free or dairy-free cooking, check out The Complete Vegan Air Fryer Cookbook: 150 Plant-Based Recipes for Your Favorite Foods.
To be fair, there are also some very good air fryer cookbooks written by others such as Linda Larsen and Meredith Laurence. I've researched to find the best air fryer cookbooks available, and you can read about all of them in my Air Fryer Cookbook & Recipe Guide.
(back to top)