This post may contain affiliate links for products I mention. If you click a link and buy something I may receive some compensation. This does not change the price you would pay.
In my opinion there is really only one choice in electric pressure cookers, but here's a comparison chart showing you the top 3. You should decide for yourself, so here are the facts!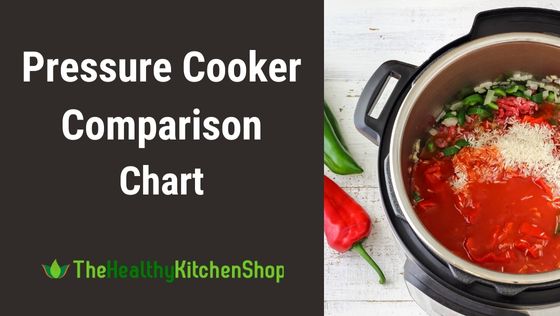 The chart below is provided as a quick reference for you to compare the top selling electric pressure cookers. Each of the models in this chart is electric and has a removable inner cooking pot. All three usually cost about the same, though the Cuisinart is sometimes higher. The main differences are in the material type of the inner pot, and the accessories that are either included or available for purchase separately.
Click the links under each product to read individual reviews, or for an overview see "What is the Best Electric Pressure Cooker?".
NOTE: The photos below are served by Amazon and are not in proportion. Please do not judge the exterior size of any of these models based on those photos – refer instead to the exterior dimensions listed in the chart.

(click to view on Amazon)


(click to view on Amazon)


(click to view on Amazon)

Model
Instant Pot
Pressure Cooker
Presto Electric Pressure Cooker
Cuisinart Electric Pressure Cooker
Read Review

Read Review
Read Review
Capacity
6 Qt.
6 Qt.
6 Qt.
Dimensions (inches)
13 x 12.6 x 12.2
13 x 11.93 x 12.5
12.2 x 12.2 x 13.19
Weight
12 lbs.
10.73 lbs.
12.7 lbs.
Material - Housing
Brushed Stainless
Stainless Steel & Black
Brushed Stainless
Material - Cooking Pot
Stainless Steel
Non-Stick Coated
Non-Stick Coated
Removable Pot
Yes
Yes
Yes
Pre-Sets
Yes
Yes
Yes
Delay Timer
24 Hr.
No
No (99 min. countdown timer)
Auto Keep-Warm
Yes
Yes
Yes
Includes
Stainless Steam Rack, User Manual/Recipe Booklet
Rack, User Manual
Trivet, Instruction & Recipe Booklet
Optional Accessories
Tempered Glass Lid
None
None
Warranty
1 Yr Limited
1 Yr. Limited
3 Yr. Limited
Average Customer Rating
4.7
4.6
4.6
Price Range
Under $100
Under $100
Under $125
See Today's Price on Amazon
Amazon
Price
Amazon
Price
Amazon
Price
(Back to Top)
I own and highly recommend the wildly popular, bestselling Instant Pot. Seriously, that 4.7 star rating is from over 150,000 online reviews. That's a LOT of positive feedback!

Click here to Read my Instant Pot Review

Click here to See the Instant Pot on Amazon
(Back to Top)
Thanks so much for visiting The Healthy Kitchen Shop. Please feel free to browse through our many other product reviews, and do come back soon!