This post may contain affiliate links for products I mention. If you click a link and buy something I may receive some compensation. This does not change the price you would pay.
Trust me, if you're in the market for an electric pressure cooker, this is the brand you want! Read my detailed review to discover why.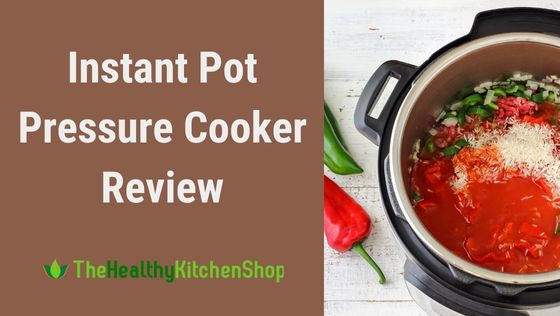 Rating: 4.7 Reviewed by Susan
The Instant Pot IP-DUO60 7-in-1 Programmable Pressure Cooker is a number one bestseller because it produces excellent results as a pressure cooker, slow cooker, rice cooker, yogurt maker, steamer and more. The only thing it lacks is a good instruction book, but you'll find an abundance of help all over the web, including some Facebook groups with thousands of very active members.
This multi-function pressure cooker has a 6 quart stainless steel cooking pot and 14 built-in smart programs. It is UL certified and is designed with 10 different safety mechanisms for your protection. The Instant Pot does have a learning curve, but over 100,000 satisfied owners will tell you it's worth it for all the versatility you get in return.
Table of Contents
NOTE: This review is on the Instant Pot IP-DUO60 7-in-1 Programmable Pressure Cooker with a 6 quart capacity and 1000W heating element. For more choices, including the new mini model, see other size options below.
Features
6 Qt. Capacity
Brushed Stainless Housing
Stainless Steel, Removable Cooking Pot
Fully Programmable; Also Includes Multiple Pre-Sets
24 Hr. Delay Timer and Keep-Warm Mode
UL and ULC Certified (safety)
Includes Stainless Steam Rack
1 Year Limited Warranty
If you like to hear the bad news first (I do!), the worst thing you can say about the Instant Pot Pressure Cooker is that the instruction manual needs some work. Because this is a very versatile multi-cooker, its control panel offers lots of settings and options. Even the happiest of owners agree that it takes a little learning, experimenting, and getting used to.
The good news is that there is a tremendous amount of help available for free online, including YouTube and Facebook. The Instant Pot Community on Facebook has thousands of members who actively ask and answer questions. It's a great place to learn and get success tips, discover new cooking ideas, or just figure out how to adapt your favorite recipe for pressure cooking.
Otherwise, there are only two reasons you could be disappointed in this model:
Do you expect electric pressure cookers to work exactly like stove top pressure cookers? They don't. The electric ones utilize a slightly lower cooking pressure, which means you have to be willing to learn a somewhat different cooking method. However, one of the many benefits you get in return is that the Instant Pot gives you the convenience of set-it-and-forget-it operation.
Do you expect the Instant Pot to actually cook "instantly"? Another difference between electric vs. stove top is that electric pressure cookers take a little longer to reach the required pressure level. Some people are misled by electric pressure cooker charts because they list only the cooking period and do not include the time it takes the cooker to get to the working pressure level. For the Instant Pot that's about 15 minutes.
As long as you understand what you're getting, chances are high that you'll be as happy with the Instant Pot as thousands and thousands of other owners. It's very energy efficient, a huge time saver, and so versatile you may find yourself using it almost every day.
In fact, a lot of times a multi-use appliance will really only do one job well, but the Instant Pot is an exception. Owners give it high marks for everything from super fast and delicious beef and chicken dishes to slow cooked stews and chowders. It works very well for steaming vegetables, pre-cooking ribs to tenderize them, cooking white or brown rice, grains, meats, fish, poultry, you name it – and yes, even making yogurt with the Instant Pot isn't difficult.
You may even find your own unique uses. A while back I overcooked some country style pork ribs on the grill, leaving them dry and tough. Since I never let food go to waste, I tossed them in the Instant Pot for about 20 minutes, added barbecue sauce, and turned those ruined chops into some delicious pulled pork.
The Sauté setting lets you brown meats for stews and other dishes right in the pot, without having to dirty up another kitchen pan or skillet. You can also use this mode when you need to simmer cooked foods to reduce some of the liquid. When you aren't using the lid it can be propped on its side in a special slot in the handle.
A brushed stainless exterior makes it resistant to fingerprints, and cleanup is fairly easy. The cooking pot is sturdy and dishwasher safe, and it's made of 3-ply 18/8 stainless steel which eliminates health concerns about food contamination from non-stick coatings. The only problem is that when you're trying to stir foods, the inner pot may tend to "spin", but that is true of most electric pressure cookers. That's another handy use for those little pinch-mitts (see "Must-Have Extra" below).
Is the Instant Pot Electric Pressure Cooker safe?
If you remember pressure cookers from back in the day, then you may be wondering about safety. The Instant Pot is one of the very few that is UL and ULC certified. Its built-in safety features include:
safety lid lock – prevents opening of cooker while it's pressurized
pressure regulator – ensures that working pressure is under safety limit
smart detection of leaking lid
anti-blockage vent – design feature to help prevent food from blocking vent
lid position monitor – magnetic sensor detects whether position of lid is unsafe for pressure cooking
automatic pressure controller – maintains pressure within safe range
excess pressure protection – releases ecess pressure into internal chamber in a dangerous situation
automatic temperature control – regulation based on type of program selected
high temperature monitoring – avoids burning foods
electric current & temperature fuse – cuts off power if safety limits are exceeded
Clearly, this ain't your grandma's pressure cooker!
Using Your Old Pressure Cooker Recipes
Anyone who is accustomed to using a stove-top pressure cooker should keep in mind that you do need to be prepared to adapt. The cooking times listed in older recipes may have to be adjusted for your electric pressure cooker, but again you can easily find help online for that. For some quick examples you can check out these references:
(Back to Top)
Size and Capacity
Exterior Dimensions: 13″ x 12.6″ x 12.2″
Weight: 12 pounds
Interior Capacity: 6 Quarts
While this certainly isn't a small kitchen gadget, it might actually end up saving you some space because it can replace several other appliances such as your rice cooker, slow cooker, and yogurt maker.
Instant Pot Pressure Cooker Size Options

Go bigger:
8 Quart Capacity Instant Pot DUO80 8 Qt 7-in-1 Multi-Use Programmable Pressure Cooker, Slow Cooker, Rice Cooker, Steamer, Sauté, Yogurt Maker and Warmer

Go smaller:
3 quart capacity Instant Pot Duo Mini 3 Qt 7-in-1 Multi-Use Programmable Pressure Cooker, Slow Cooker, Rice Cooker, Steamer, Sauté, Yogurt Maker and Warmer
What's Included
Stainless steel steam rack with handles
Condensation collector
Rice paddle, soup spoon and measuring cup
User Manual and Quick Reference Guide
(Back to Top)
Optional Accessories
Instant Pot Tempered Glass Lid for Electric Pressure Cookers, 9″ – It's dishwasher safe, has a stainless steel rim and a steam-release vent, and sells for under $20 (price depends on size of your Instant Pot). You may enjoy having this see-through lid for:
using your Instant Pot as a slow cooker
leaving your Instant Pot in keep-warm mode for serving
covering your cooking pot to prevent any splatter while browning or simmering



A Must-Have Extra for Any Electric Pressure Cooker

It can be hard to get a grip on the pot insert to remove it from the cooker, and one handy solution is a pair of pinch-mitts. These are a little better quality than the ones made by Instant Pot and are not expensive.
(Back to Top)
Customer Reviews
The low ratings this product has received relate to either a unit that doesn't perform well or that quits working altogether. In the cases of broken units I found, the manufacturer has responded to every one and requested that the reviewer contact customer service to resolve the issue and/or get repairs or replacements that are covered under the warranty.
In my book this company goes "above and beyond". After all, so many of these bad reviews are from people whose unit breaks, and instead of asking the company to honor the warranty, they just go online and write that the thing is a piece of junk and give it 1 star. Meanwhile, the company is paying staffers to go online everyday and search for these bad reviews so they can ask the customer to please give them a chance to stand behind their product and honor the warranty.
As for those disappointed with performance, I must say that a lot of those bad reviews are very nasty and insulting, when in fact many times the only problem is the user's inexperience. Yet despite that, the Instant Pot company staffers are extremely gracious in their responses and always find a very polite way to respond with solutions and offers to help. This company really deserves an A+ for customer service.
Update November, 2022: I no longer see Customer Service responding to online reviews like they did in the beginning. That's not surprising because on Amazon alone there are now over 156,000 reviews. It would be impossible to keep up. If you do have a problem, before you write a nasty review on Amazon, try asking the company for help. You might be pleasantly surprised.
Out of all the tens of thousands of online reviews, less than 3% rate the Instant Pot with only 1 star. The vast, vast majority are in complete DISagreement with those folks. With the proper settings everything from beef and chicken to rice and beans will turn out well. For avid users it eliminates the need for other appliances such as a slow cooker, rice cooker, steamer and yogurt maker. It's a well-designed model that takes a little getting used to but in turn produces excellent results in every cooking task it was created to do.
A Note About the Sealing Ring: You may see some online reviewers reporting that the sealing ring inside the lid of the Instant Pot tends to absorb cooking odors. I can confirm from personal experience that this is true. However, owners who mention the problem say they still love the Instant Pot and would buy it again.
I agree with them. This is an issue to be aware of, but by no means would I consider it a deal breaker. It has no affect on the taste of the foods you cook. The only problem is that some of us don't want to smell the leftover aroma of last night's dinner while we're cooking this morning's breakfast.
One solution is to buy an extra sealing ring. You can then use one ring for bland foods, and use the other for chicken, spicy dishes, and anything that produces a strong aroma while cooking. In my opinion this is not a big deal because the sealing rings are inexpensive, and switching rings is quick and easy.
Price of the sealing ring depends on which size Instant Pot you have, but the most expensive one usually sells for under $10. You can click on the image below to check today's exact price on Amazon.
(Note that using any other brand of sealing ring may void your Instant Pot warranty.)
There is another simple solution that may work for you too. I wrote a longer explanation of this odor issue, and it even includes a short video demonstrating how simple it is to change out the sealing ring. See "Before You Buy An Instant Pot Read This" to get all the details.
(Back to Top)
Pros
Extremely versatile and works well on all functions
Stainless steel inner cooking pot
Includes multiple pre-sets or can be programmed manually
Delay timer (up to 24 hrs.) and automatic Keep-Warm mode
Includes mesh steamer rack, also stainless steel
UL and ULC Certified
1 year limited warranty
Well documented on the web (you'll find lots of help online if you need it)
Excellent customer service
Cons
Learning curve involved to understand multi-function features
Instruction manual does not explain operation as well as it could
Inner pot may spin as you stir food (but then, they pretty much all do that)
Instant Pot Pressure Cooker Review: Summary
Feedback is so overwhelmingly positive it's hard to find much to criticize. There are enough complaints about the instruction manual to indicate that the manufacturer should probably work on it. However, that certainly isn't a deal breaker because there is so much help readily available online.
While the Instant Pot Pressure Cooker might have a small learning curve, owners agree hands down that it's well worth it. Even those who thought they just wanted a basic electric pressure cooker are delighted that they chose the multi-function Instant Pot. They quickly found themselves using it almost daily because it does such an excellent job using any function you choose. It's loaded with features for both convenience and safety, and the stainless steel inner pot eliminates any worries about non-stick coatings. All things considered, it's easy to see why this is the number one bestseller in its class on Amazon.
If you found this review helpful please share on Pinterest and help spread the word!