This post may contain affiliate links for products I mention. If you click a link and buy something I may receive some compensation. This does not change the price you would pay.
Want a delicious way to improve your diet? Discover the great taste and super health benefits of purple sweet potatoes – and try one of these 57 recipes!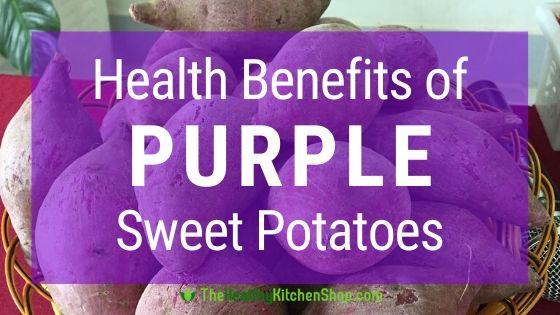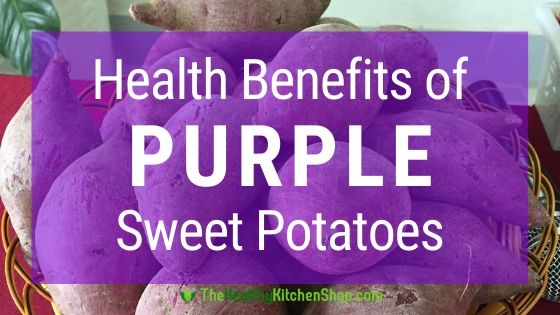 Ever heard of anthocyanins? The explanation is below, but it's enough to know that's what gives the flesh of these potatoes its glorious, vibrant color. Talk about kid friendly … when your little ones sit down to a plate of purple mashed potatoes, they'll think you're magic!
Read all about this delightful vegetable below, beginning with all the health benefits of purple sweet potatoes. That's why you should eat them, but following that are more than 50 recipes to give you an idea of why you'll want to eat them. Only question is, which will you try first?
Vitamins, Minerals & Antioxidants
This tasty veggie has so much going for it that it's been called a super food. To begin with, it's a good source of several vitamins and minerals, including:
Vitamin A – important for vision, healthy skin, and reproduction; helps support your immune system; helps organs such as the heart and lungs work properly
Manganese – aids in bone formation; required for processing protein, carbohydrates, and cholesterol
Potassium – needed for virtually every function in your body; especially important for kidneys and heart, for nerves, and for muscle contraction
Magnesium – helps maintain nerve and muscle function; supports immune system; helps regulate blood glucose levels; aids in production of energy and protein; important for bone health; may help control blood pressure
On top of that, purple sweet potatoes are loaded with antioxidant and anti-inflammatory agents. Inflammation is a normal reaction to various infections or injuries, but prolonged or "chronic" inflammation is a problem. Over time it may increase your risk of type 2 diabetes, cancer, heart and other diseases.
Of course, poor diet isn't the only cause of inflammation. Other contributing factors can include lack of physical activity, lack of adequate sleep, stress, and toxins in the environment. Purple sweet potatoes can't fix all that, but they do contain anti-inflammatory properties that may prove to be helpful.
As mentioned above, the vivid color of this veggie comes from anthocyanins, a phytochemical that is a powerful antioxidant. Research even indicates some promising anti-cancer properties.
You've probably read that antioxidants can play a role in balancing out the free radicals that may be found in your system. It's one of the reasons that blueberries are considered a super food. Purple sweet potatoes may be even better. An article from the Dr. Oz show website states that purple sweet potatoes contain 150% more antioxidants than blueberries!
Purple Sweet Potatoes Are A Low-Energy-Dense Food
If you aren't familiar with the term "low-energy-dense", it refers to a food you can eat to stay fuller longer on fewer calories. Who doesn't want/need that?!
Energy density is simply the amount of energy (measured by calories) in a specific portion of food (measured by weight). To do the math yourself on any food, just divide the total number of calories per serving by the total number of grams per serving.
High in Fiber and Why It Matters
Lots of low-energy-dense foods are high in fiber, and the purple sweet potato is no exception. A one-cup serving provides 5 grams of fiber. That includes both soluble and insoluble fiber, and some of the many health benefits include:
Slows the rate of sugar absorption into bloodstream – This prevents spikes and sudden drops in glucose levels.
Speeds up your intestines – Foods rich in fiber move through your system more quickly and help you feel full faster, which helps keep you from overeating.
Provides natural cleansing – Fiber acts as a cleanser in the intestines to remove bacteria and help prevent colon cancer.
Regulates digestion – Eating a diet with plenty of fiber helps prevent constipation and promote regular bowel movements.
Helps prevent disease – A fiber-rich diet may help lower cholesterol and reduce your risk of diabetes and heart disease.
Now you know this vegetable is good for you, but what about taste? The good news is that purple sweet potatoes are delicious. They have a firmer flesh than the orange variety of sweet potatoes, and the taste is somewhat of a cross between the two.
As for cooking them, that's easy because they're so versatile. To get an idea, check out all the ideas in the recipe list below.
Purple Sweet Potato Recipes
This collection includes recipes for everything from sides to breads to soups to desserts. When you want to keep it super simple, try a plain baked purple sweet potato. Serve with a little sea salt or any toppings you enjoy on other types of baked potatoes.
You might also like…

Best Cookbooks for Healthy Eating – The Top 5 for Busy People

50+ Air Fryer Recipes
(Never heard of such a thing? Then check out What is an Air Fryer?)
If you found this info helpful please share on Pinterest and spread the word!