This post may contain affiliate links for products I mention. If you click a link and buy something I may receive some compensation. This does not change the price you would pay.
If you love a good ribeye, this Air Fried Steak recipe will not disappoint. It's another delicious recipe from "The Air Fryer Bible" cookbook, and you have to try it to believe how good it is!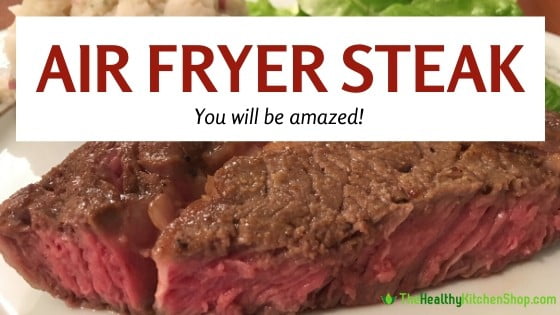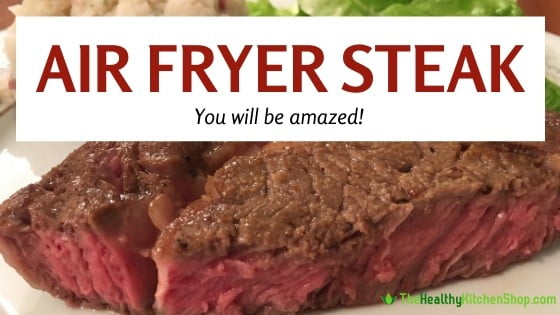 Air Fryer Ribeye – Prepare to Be Amazed
Anyone who is skeptical about this recipe should know that I felt exactly the same way. When I first decided to try cooking a steak in an air fryer, I had very low expectations. Frankly, I thought it would be a sad waste of a good piece of meat.
To put this in perspective, understand that my favorite cut of beef is a ribeye, and my favorite way to cook it is on an outdoor charcoal grill. A gas grill is okay, but my old school taste buds still prefer that rich, smoky taste of real charcoal.
On rushed days my second choice used to be my George Foreman grill. It cooks quickly and turns out a very nice steak that, to me, tastes every bit as good as meat cooked on a gas grill.
Notice I said "used to be". That was before I tried air fried steak. It's fast, couldn't be easier to do, and turns out so delicious you'll be amazed.
About This Recipe
If you own a Philips air fryer, you can buy a Grill Plate as an optional accessory. If you have that you can give it a try, but it is not necessary. I own a grill plate and have never used it for steak.
(I do use my grill plate for other dishes. For one example see this Air Fryer "Grilled" Chicken Recipe.)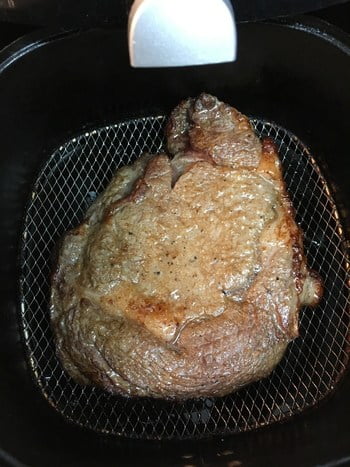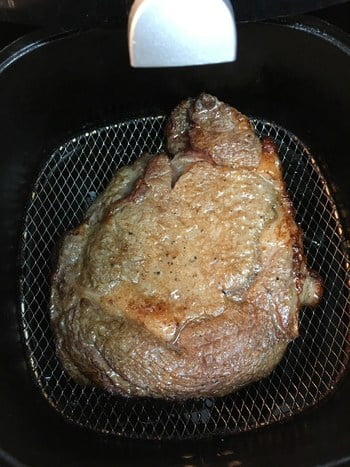 When cooking a ribeye, I always place it directly in the air fryer basket, and that gives me excellent results. Excess fat drains off during cooking, and the steak turns out tender, juicy and absolutely delicious.
Pictured at right is a ribeye I cooked recently. As you can see, this one was so huge it almost filled the entire basket.
When you have an unusually large or thick cut of steak, it's helpful to use a meat thermometer to test for doneness. Use the times in the recipe below for a guide, but check temperature to determine the proper degree of doneness.
In my opinion, air fried steak is actually better than steak cooked on a contact grill or by any other indoor method.
Boneless Ribeyes
Prep Time:

5 minutes + 30 minutes marinating

Cooking Time:

10-12 minutes

Total Time:

15-17 minutes + 30 minutes marinating

Yield:

2-4 servings
Recipe from The Air Fryer Bible – © 2017 Susan LaBorde and Elizabeth Hickman. All rights reserved.
Tip: The total cooking times listed in this recipe are approximate, and some air fryers cook faster than others. Watch carefully so that you don't overcook your steaks! (Also see NOTE below.).
INGREDIENTS:
2 boneless 8-ounce ribeye steaks
4 teaspoons Worcestershire sauce
1/2 teaspoon garlic powder
Coarsely ground black pepper to taste
4 teaspoons extra virgin olive oil
Salt to taste
DIRECTIONS:
Season steaks on both sides with Worcestershire. Use the back of a spoon to spread evenly.
Sprinkle both sides of steaks with garlic powder and pepper.
Drizzle both sides of steaks with olive oil, again using the back of a spoon to spread evenly over surfaces.
Allow steaks to marinate for 30 minutes.
Place both steaks in air fryer basket and cook at 390 F for 5 minutes.
Turn steaks over and cook until done to your preference:

Medium Rare: Cook an additional 5 minutes
Medium: Cook an additional 7 minutes
Well Done: Cook an additional 10 minutes

Remove steaks from air fryer basket and let sit 5 minutes. Salt to taste and serve.
Note: To ensure that beef steak is safe to eat, it should be cooked to a minimum internal temperature of 145 F.
© 2017 Susan LaBorde and Elizabeth Hickman. All rights reserved. No part of this recipe may be reproduced or transmitted in any form or by any means without prior written permission.
Want more recipes like this? Click here to see The Air Fryer Bible on Amazon.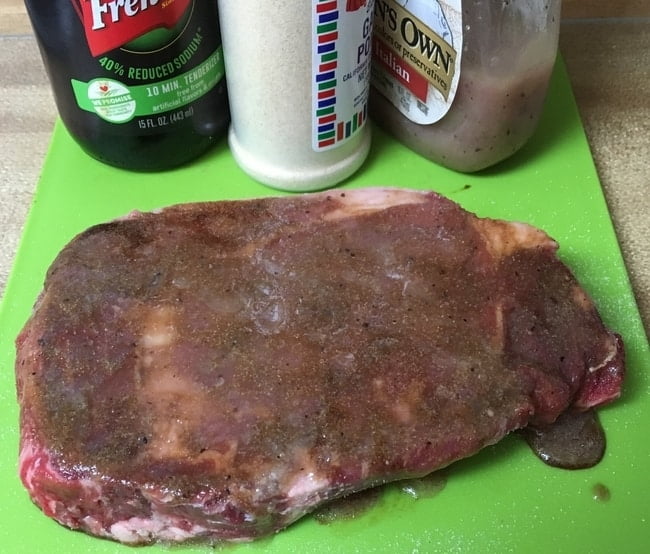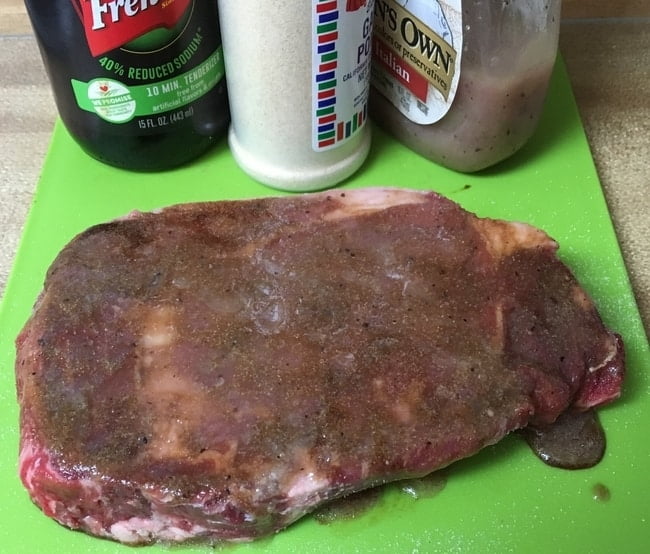 For a delicious variation, omit the olive oil in the above recipe and substitute Italian salad dressing in its place. One excellent choice is the Newman's Own brand.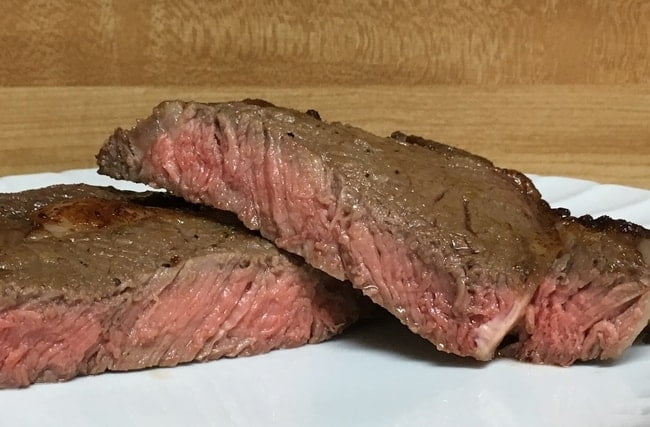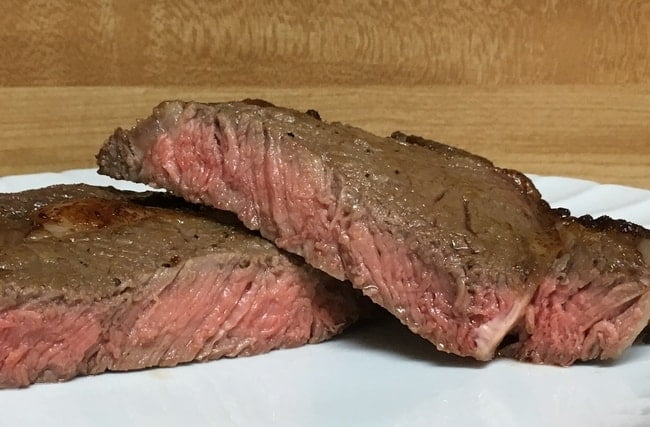 Bonus: Emeril Air Fryer Steak
The purists among us like to keep steak seasoning to a minimum. Some use none at all so as not to interfere with the natural flavor of the beef itself.
For those of you who like to be more adventurous, check out Emeril's Air Fried New York Strip Steak. He developed the recipe for his own brand of air fryer, but it could easily work in most any air fryer.
Emeril tops his cooked New York Strip steak with a decadent sauce that starts with chopped shallots and minced fresh garlic sauteéd in butter. To that you add dry red wine, beef stock, and heavy cream.
The method is not complicated or time-consuming, and you'll feel like a gourmet cook! If you need an impressive dish for a special occasion, this is definitely worth a look:
Emeril Air Fryer Steak – New York Strip with Red Wine Sauce



You may also like:
If you enjoyed this recipe please share on Pinterest and spread the word!