This post may contain affiliate links for products I mention. If you click a link and buy something I may receive some compensation. This does not change the price you would pay.
Vacuum sealing vegetables is a smart idea for 3 simple reasons – you'll save time, save money, and eat healthier!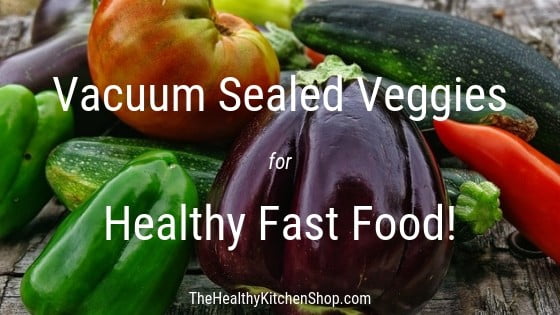 Virtually every nutritionist on the planet says we should all be consuming more fresh vegetables. We know that, and we buy produce with good intentions, but then we don't have time to cook, so it spoils in the fridge.
On busy weeknights it's so tempting to choose unhealthy foods because they're fast, cheap, and easy. Is it any wonder that meal prep has become all the rage? It's a great solution – you invest some time one day a week in order to make it easier to eat healthy for the rest of the week.
A vacuum sealer can help you accomplish the same goal, and there are lots of other advantages too!
Don't own one? Click here: Vacuum Sealers – Reviews, Comparison Charts, FAQs
The Benefits of Vacuum Sealing Vegetables
Save Money
At harvest time you can preserve produce fresh from your garden or the local farmer's market. Any time of year you can buy in bulk to take advantage of sales or lower in-season prices.
Save Time
Yes, preservation requires some time, but that investment pays off. You create your very own stockpile of healthy "fast food" for quick meals even on busy nights.
Eat Healthier
It's a lot easier to make healthy choices when it's convenient. When you've prepared ahead, you won't be so tempted to stop by a drive-thru window.
Eat Cleaner
Whether you grow your own or source your own, you're in control of your food. Enjoy the peace of knowing your produce isn't tainted by undesirable chemicals.
Control Portion Size
Speaking of temptation, we Americans pack on a lot of pounds with all those second helpings. A great way to stop that is to package in single-meal or single-serve quantities. (And yes, you can even overdo it on veggies if they're coated in rich sauces or gravy.)
Eliminate Waste
If you buy produce and then change plans, a quick vacuum seal will prevent it from going to waste. Even leftovers can be sealed for later use in soups or stews.
Avoid Boredom
If you tend to get in cooking ruts (don't we all?!), it helps to have a nice selection of ready-to-cook veggies in your freezer. Add more variety to your weekly meals, instead of cooking the same old thing all the time.
How Long Do Fresh Vegetables Last?
To put matters in perspective let's first take a look at how well fresh veggies hold up when stored without vacuum sealing. Except for potatoes, most of the vegetables in the chart below will keep best in the fridge.
Vegetable Freshness Chart – All Times Are Approximate
| 3 to 5 Days: | 6 to 8 Days: | Up to 2 Weeks or More: |
| --- | --- | --- |
| Artichokes | Bell Peppers | Acorn Squash |
| Asparagus | Broccoli | Beets |
| Corn | Brussels Sprouts | Carrots |
| Cucumbers | Cabbage | Onions |
| Scallions | Cauliflower | Parsnips |
| Spinach | Celery | Potatoes |
| Yellow Squash | Eggplant | Radishes |
| Zucchini | Green Beans | Sweet Potatoes |
| | Hot Peppers | Turnips |
| | Lettuce | Winter Squash |
How Long Do Vacuum Sealed Vegetables Last?
On average, vacuum sealing will keep vegetables fresh 3 to 5 times longer. The exact time depends on several factors, including:
freshness of the produce before sealing
proper preparation (see below about blanching)
quality of seal
To extend storage time far longer, many vegetables can be flash frozen first and then vacuum sealed. Some foods will last for up to 2 years when preserved this way. For more details see these flash freezing instructions from VacMaster.
Should Vegetables Be Blanched Before Vacuum Sealing?
Yes, blanching is necessary for several reasons. Even when frozen, active enzymes in food can rob them of color, flavor, and nutrients. Blanching stops this process so that freshness can be preserved after vacuum sealing and freezing.
Another problem addressed by blancing is the gases that are emitted by cruciferous vegetables. "Cruciferous" means vegetables related to the mustard family such as broccoli, Brussels sprouts, cabbage, cauliflower, kale, radishes, and turnips. Left unblanched, your neatly sealed vacuum bags would fill up with this gas, and the produce would spoil.
Finally, a side benefit of blanching is that it helps ensure that your produce is well cleaned and free of dirt.
Timing and methods used in blanching can vary. The water method is recommended for most vegetables, and for complete details see this chart of blanching times provided by The National Center for Home Food Preservation.
What Vegetables Should NOT Be Vacuum Sealed?
Two vegetables are NOT suitable for vacuum packaging. They are mushrooms and garlic. The problem is that some foods contain anaerobic bacteria, and this bacteria can grow even in the absence of air. That means that even inside a vacuum sealed pouch, the bacteria will continue growing inside the food, making it dangerous to eat.
Success Tips for Vacuum Sealing Vegetables
Most important, by far, is cleanliness. Before you begin, clean your entire work area, including the counter tops and utensils. Wash your hands, but still, you should avoid touching food. Either use tongs or spoons, or wear food grade gloves.
Also, never process meat, fish, or poultry at the same time as you process other foods. That introduces another risk of transferring germs or bacteria, and the goal is to prevent any contamination of your nice fresh produce.
This is NOT a comprehensive list. Cleanliness is vital to food safety, and extreme caution must be exercised with any home preservation method. Refer to The National Center for Home Food Preservation for more information.
You may also want to read this article on Ask a Prepper, which includes a discussion on the risks of food poisoning with vacuum sealed foods that are improperly prepared or stored. To keep this in proper perspective, be sure to read the long list of comments below the article.
Other tips for getting the best results:
Clean vegetables to rid them of dirt, debris, and insects.
Don't overfill sealing bags.
Follow instructions for your sealer to the letter; if you don't use the machine exactly as the manufacturer intended, don't expect good results.
Always label packages, and include the processing date.
When processing large batches, take breaks to transfer sealed bags to the freezer. Food should never sit out on counter for more than 2 hours.
Remove bags from storage using the FIFO system – First In, First Out. That way, the oldest produce will get used up first (instead of getting buried at the bottom of the freezer where it will ruin).
Summing It Up
Whether you're on a strict diet or just trying to eat a little healthier, a vacuum sealer can definitely help. Spend a little time stocking your freezer with pouches of fresh veggies, and enjoy big payoffs later.
You won't be tempted to stop for fast food when you know you can quickly throw together a home cooked meal that is much better for you, far less fattening, and delicious too.
---
Need a Vacuum Sealer? We're here to help!
Vacuum Sealers – Product Reviews, Comparison Charts, Need-to-know Info
---
Bonus Tip – Holidays and Parties

New Years Day – Super Bowl Sunday – Easter – Independence Day – Thanksgiving – Christmas

There are so many ways you can use vacuum sealing to help you with entertaining. Save money by buying foods such as nuts and other pricey ingredients when you can catch a sale and stock up. Prepare your side dishes ahead so you need only thaw, add finishing touches, heat & serve.

You can even do some of your baking work ahead of time. See these tips from FoodSaver on make-ahead, ready-to-bake cookies. How convenient, especially when you have so much else to do! Cook only as many as you need and always serve freshly baked cookies without the last minute rush.
You may also like…