This post may contain affiliate links for products I mention. If you click a link and buy something I may receive some compensation. This does not change the price you would pay.
The air fryer is probably the best appliance you could own to help you cook for the keto diet. Try a few of these keto air fryer recipes and you'll see why!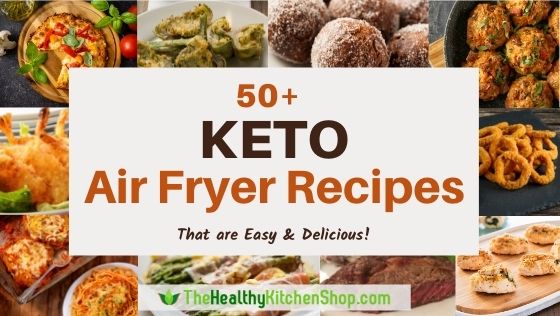 Air fryers are great for anyone who wants to eat healthier, and that applies to anyone following the keto diet. We all love foods with crunchy coatings, and that's an air fryer specialty. Even without traditional panko and other high-carb coatings, air fryers can turn low-carb substitutes into that same crispiness you crave.
Besides that, air fryers are incredibly versatile. The first time I cooked a steak in an air fryer I was certain it was going to be a total waste of a good piece of meat. Oh my was I ever wrong! Try the recipe below for boneless ribeyes and you'll see what I mean.
Perhaps the other most surprising aspect of this little appliance comes through in breads and desserts. Air fryers do a beautiful job of all kinds of baked goods. The ones below are keto friendly, so you can feel like you're dining on decadence without wrecking your diet.
Keto Air Fryer Recipes
Appetizers & Snacks
Main Dishes
Chicken & Turkey
Beef & Pork
Fish & Seafood
Eggs & Meatless
Side Dishes
Breads & Desserts
You may also like…
If you enjoyed these recipes please share on Pinterest and help us spread the word!